White Caste
Who's the fairest of them all?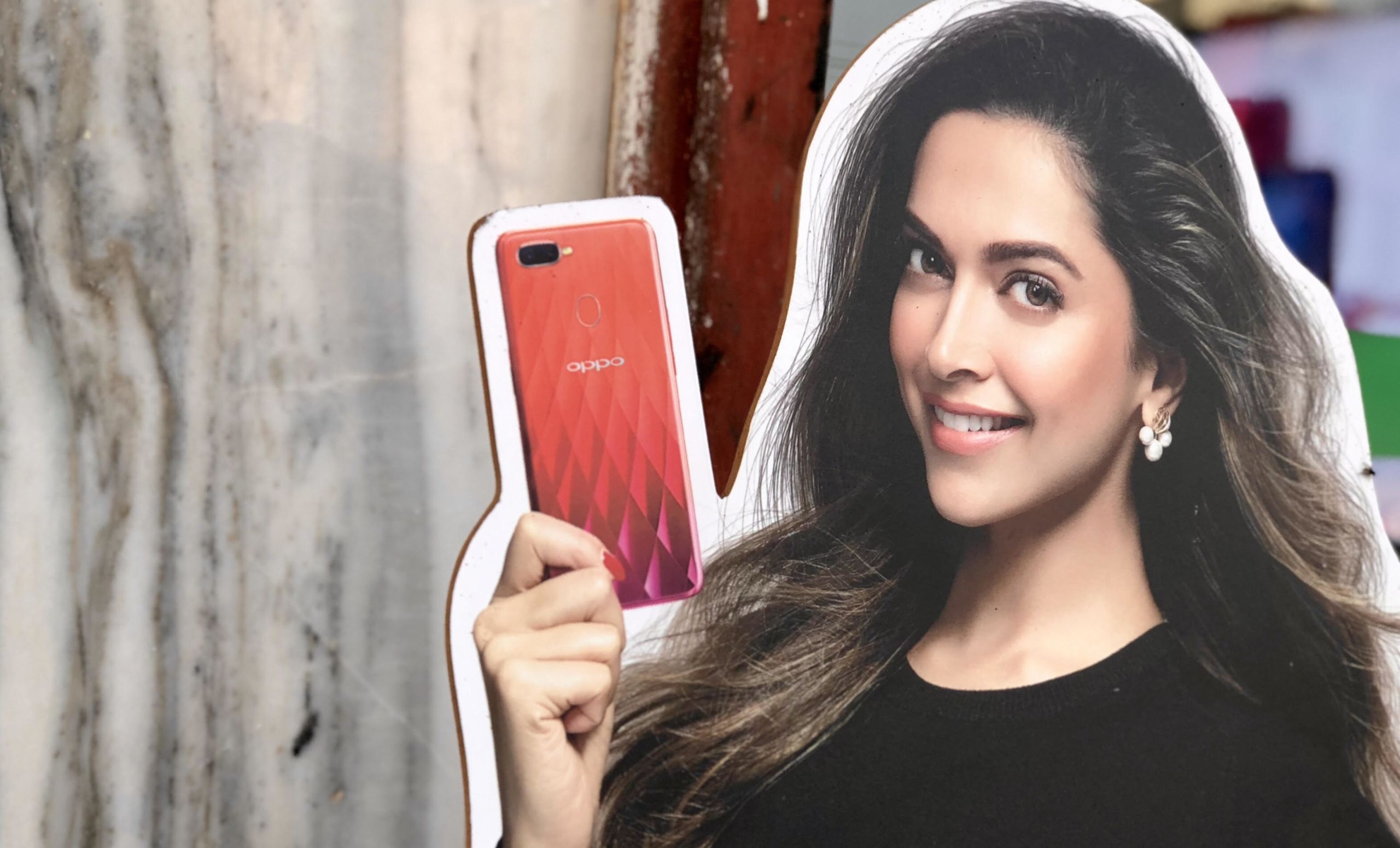 Painted pink under the rule of the 19th century Maharaja, Ram Singh, artefacts of a new generation of royalty now line the terracotta walls and buildings of Jaipur.  
A barrage of advertisements on billboards, shop windows and the sides of auto rickshaws feature photos of the fair-skinned Indian icons of popular culture and product ambassadors—as ubiquitous in this city as its dedications to gods and historical monuments. 
The streets of Jaipur are filled with photographic advertising that depicts Indian faces as fair, or 'light,' and in some cases, the pigment of the subject's complexion is even diminished using a monochrome black and white palette, suggesting, well… whiteness. 
"White is considered to be a better skin tone than the actual Indian skin tone, which is not that white," says Professor Manish Verma, Head of Communication at Amity University in Rajasthan. Prof. Verma has seen the rise in trend of fair-skinned protagonists throughout popular culture over the past few decades. He says that the advertising industry in India "follows its Western counterparts," and that fair-skin idealism is partly a legacy of the subcontinent's colonial history, and that over the years, darker skin has been associated with lower castes.
The preference of some Indians for 'fairness' manifests itself in the marriage adverting pages of The Indian Times, where some listings demand a 'fair' match for their family's son or daughter, like this one from September 23rd, 2018: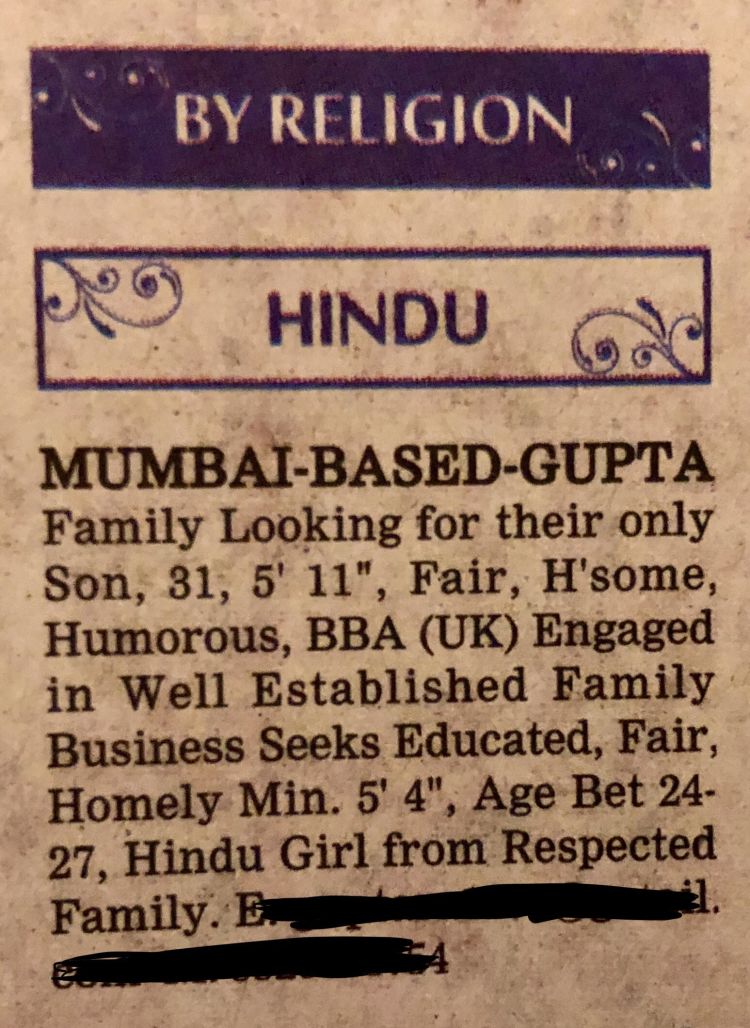 Prof. Verma says that the perceived superiority of a fair complexion has led to the rise of advertising for 'fairness' creams, a booming market with sales projected to reach Rs. 5,000 crore (around A$950 million) by 2023. Creams and other fairness skin products claim to 'brighten,' 'lighten,' 'bleach' or reduce pigmentation by decreasing skin's melanin content. 
Johnson & Johnson, Unilever and Hindustan Unilever manufacture some of the most popular ranges of fairness creams in India. Fair & Lovely is the product marketed to women by Hidustan Unilever. They also have a product for the male market, Fair & Handsome. These products can be purchased at even the smallest of supermarkets, with prices starting at around Rs. 145 (A$2.75). The advertising and packaging of fairness creams tend to contrast a woman or man's face that has a darker complexion (the 'before' image) with one with a lighter complexion (the perceived 'improvement' one can expect from using the product). 
Since 2014, any advertising in India which depicts darker complexion as inferior is banned  by the Advertising Standards Council of India (advertising regulatory body). This ad which features Indian superstar Shahrukh Khan predated the ban: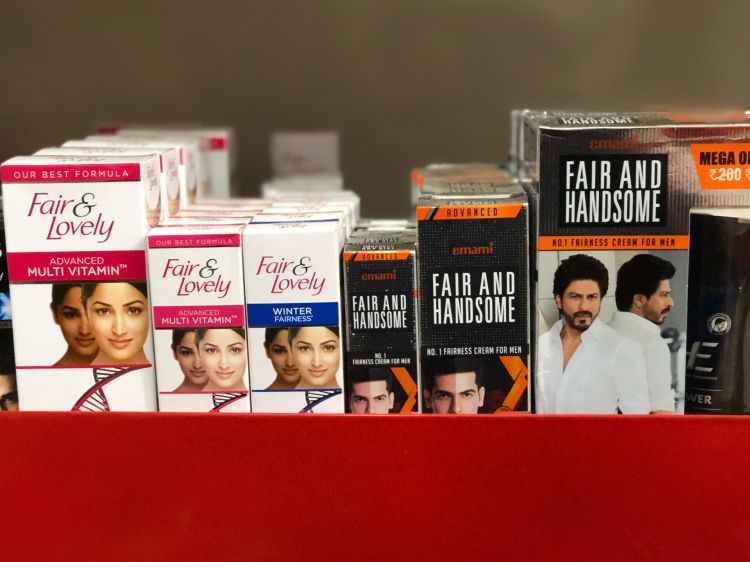 Despite this attempt to regulate advertising in the skin-lightening product industry, marketing and product packaging still seems to go further than to imply that lighter is indeed better—a sentiment reinforced by the pervasive fair-skin idealism in India's advertising market and popular culture imagery.
Indian advertising and popular culture does not have the monopoly on the 'bleaching syndrome.' As Benny Li writes of the whitewashing of the Crazy Rich Asians movie cast, "colorism in the film industry looks like lighter Asian actors replacing darker Asian actors on the premise that lighter skin is more beautiful and thus more appealing on the big screen: lighter skin is the privilege."
"Sometimes it's pressurising, when people are like, 'You have to be fair to look good'." Radhika Ramdeo, a 20-year-old student from Rajasthan, says that despite the ideal projected by celebrities and in advertising, she believes younger generations of Indians are helping to move the common understanding of beauty in India away from its 'orthodox' ideals. 
#Ownyourskin is just one of a number of social media campaigns which encourages people to embrace their complexion, and to try to stamp out the ingrained 'racism,' that Radhika says has a long history in India. Radhika thinks it is helping empower young women, especially. "Some say, I have a dark skin and I own it and I love it."Despite this push to change attitudes toward darker complexions, she says that the increased demand for fairness creams and other lightening or bleaching products is "disturbing," and that celebrities who endorse skin lightening products for women and men are responsible for perpetuating this 'racist' ideal. "They should know that they are on a national level, and fans obviously get affected by this. If they take a step back, then that will be more helpful."